Sunglasses for children
Children might not be as interested as grown-ups have been in the style facet of glasses. But due to the fact that kids spend longer outdoors than most grown-ups do, shades that block 100 % from the sun's dangerous ultraviolet (Ultra violet) sun rays are essential for children.

Actually, researches show that our eyes get 80 % of the total lifetime exposure to the sun's Ultra violet by age 18. And also, since excessive lifetime exposure to Ultra violet radiation leads to the development of cataracts as well as eye problems, it's better for children to start to use high quality shades outdoors.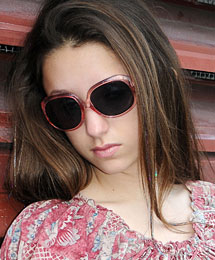 Ultra violet sun rays aren't the only potential hazard from sunshine. Lately, scientists have concluded that long-time exposure to with high-energy visible (HEV) light rays, also known as "blue light," could also cause damage to the eyes over time. Particularly, some believe a frequent lifetime exposure HEV light may lead to macular degeneration later in his or her life.

Children's eyes are much more fragile to Ultra violet and HEV radiation than adult eyes since lens in young eyes are less cable to blocking extremely high-energy sun rays, especially true for kids. Therefore it is smart for children to wear protective shades as they start playing in direct sunshine outdoors.

In addition, please remember that your son or daughter's exposure to Ultra violet sun rays increases at high altitudes, in tropical locales as well as in highly reflective conditions (such as snowfield, water or sandy beach).
Top 5 Patterns in Children's Sunglasses
1.Designs that imitate those of grown-up sunglasses, sophisticated, cool and fashionable.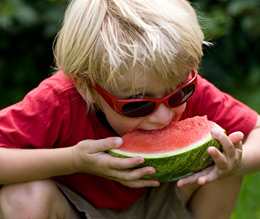 2.Today's plastic-type material designs in abundant colors (no longer bubble-gum colours).

3.Sports eyeglasses in scaled-down models of grown-up styles.

4.Clip-on sunglasses for kid's prescription glasses. Clip-ons are all around and cost-effective. Rather than attaching with metal clips (which may scratch eyeglass lens), now you can as well purchase sunglass clip-ons which are magnetically fastened.

5.Brand charm. Children are turning into as brand-conscious as the parents and older sisters and brothers. Major eyewear manufacturers have partnered with Disney, famous cartoons and young celebs to produce eyeglasses and sunglasses designed for and attractive specifically to kids.
Find high quality kids sunglasses online