Vision Test - The free eye exam will provide you with a clue to the health of your eyes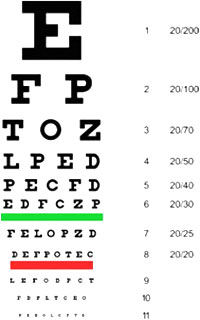 Free Vision Test Online
One of the most annoying things about ordering glasses online has been that you would have to visit an optometrist in order to get your prescription numbers. This often involves having to say "NO!" about a dozen times to the sales pitches that your optometrist will give you, even if you don't have vision problems.
Now, you can skip this step when you visit finestglasses.com because we will be offering a free vision test. This vision test works with a variety of different monitor sizes, and also can be used by adults and children alike. It's a great way to get a clue about how much help your vision will need. This vision test runs on the "E Game," which uses capital E's of various sizes and orientations to judge around how high of a prescription you will need.
This isn't only very convenient – it also keeps you from having to get hassled by optometrists who are desperate to sell you overpriced non-prescription glasses!
Ordinary Vision Test
The ordinary vision test shall be given in good light by using a printed eye chart placed upright on the wall. The person to be tested should stand at the the required distance (for example: 10 feet, or as determined in other case). The person to be tested should cover one eye with the other open.
The visual acuity of the opened eye can be judged according to the lowest line that can be read correctly. When testing children, it is important to keep their covered eye truly covered. In order to avoid the peeking through fingers, an opaque object can be used to cover the eye that is not being tested.