Astigmatism Test - Online test with our advanced technology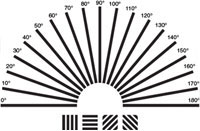 Astigmatism Test Online
If you recently had an accident, or have blurry vision that appears distorted, you may have astigmatism. Normal glasses don't work well with people who have astigmatism, and a special prescription will be necessary. For those who still don't know whether or not they have it, this is a crucial test that every glasses wearer should take.
finestglasses.com takes out most of the hassle and offers it to customers free of charge. Out of all of the major tests, the astigmatism test that we offers is the shortest one, and also is one of the most important to take. If you find out that you have astigmatism, you need to go to a doctor as soon as you can.
Astigmatism prescriptions are different, and you will need to learn as much as possible in order to find out which glasses you want to order, along with whether or not they can come in your prescription.