Note: For Internet browsers, we recommended that you use Microsoft Internet Explorer or Mozilla Firefox with our website. These are the most secure, standard browsers with best compatibility.
Have Your Prescriptions Available
1. For prescription eyeglasses order, an up-to-date prescription from your optometrist or ophthalmologist is required. So please get it available before you start ordering. And we highly recommend you to obtain the most correct PD value or papillary distance measurement from your optometrist since it is quite important for ensuring your vision sight and comfort when wearing prescription eyeglasses especially those with bifocal or trifocal lenses. If you really don't have your PD value at the moment, you can access to our PD Self Test and get your PD value online.
2. For non-prescription eyeglasses order, please ignore this section.
Search the Frames You Want
To find the frames that suit you the most, there would be some little tips for you:
1. Find the specific category of products at the top navigation bar of the website. For example: the eyeglasses including Men's, Women's and Kid's are generally sorted by rim type, material, style, lens type and purposes. This will help you to narrow the selections and search products that suit you more quickly.



2. You can also use the options in the left column to choose type, style, material, shape, color, price and others you want to view. And when you enter product list page, you may also select several options together to refine your choices.



3. If you want to cancel one selected option, please click that option again to uncheck.
4. Click the "Reset" or "View All button" at the bottom of the navigation column to clear all selections.
5. After refine search, you may have clearer idea about which product to choose, click the one you want to view product details.
Try-on the Frame and Select Colors
1. After you enter the product detailed page, you can view product name, price, colors and lens type at the center area, and view product picture at the left. You can also switch to photos shot at different angles and click "See Large Image" button to view large sized photo.
2. At the right area of the page, there will be some models wearing this glasses to display the try-on renderings. Switch colors at the center; the try-on photo for this color will be displayed accordingly. You can also click "Open Full Version" to enter Try-On software page and experience the unique technology in full version. You can upload your own photos there or use the existing models of the website to try on this pair of glasses or any other glasses available in the website.
3. Come back to learn more about this product at the Product Details area underneath, which will provide details about the brand, material, gender, rim type, style and shapes. Also there will be a clue for you to know about the services and return policies offered by the website.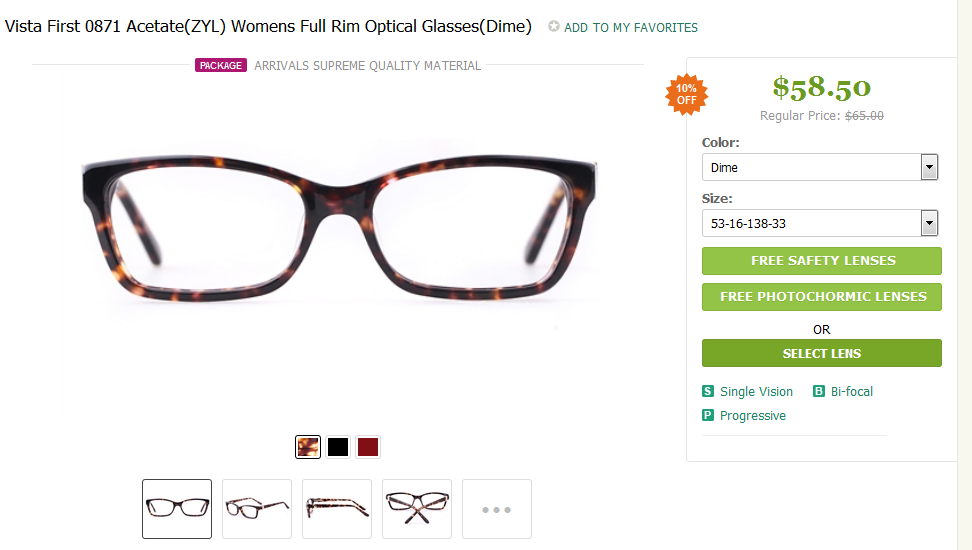 Fill in the Prescription
1. If you are ordering eyeglass frames without the spectacle lenses. Please click "Buy Frame Only" button.
2. If you are ordering eyeglasses. Please click "Select Lens" to fill in the prescription. First, you need to select the correct refractive index, and continue step 2 by selecting SPH, CYL, AXIS, etc. Choosing PLANO means the value you want to enter is 0.00. Thirdly, don't forget to enter your PD value. And you can leave a message about the eyeglasses to be ordered if any extra information is necessary.
3. Choose other options in step 3 for eye or lens protection, such as tint, anti-reflective coating, or UV protection, etc.
4. Please double check your prescription before you continue the next step.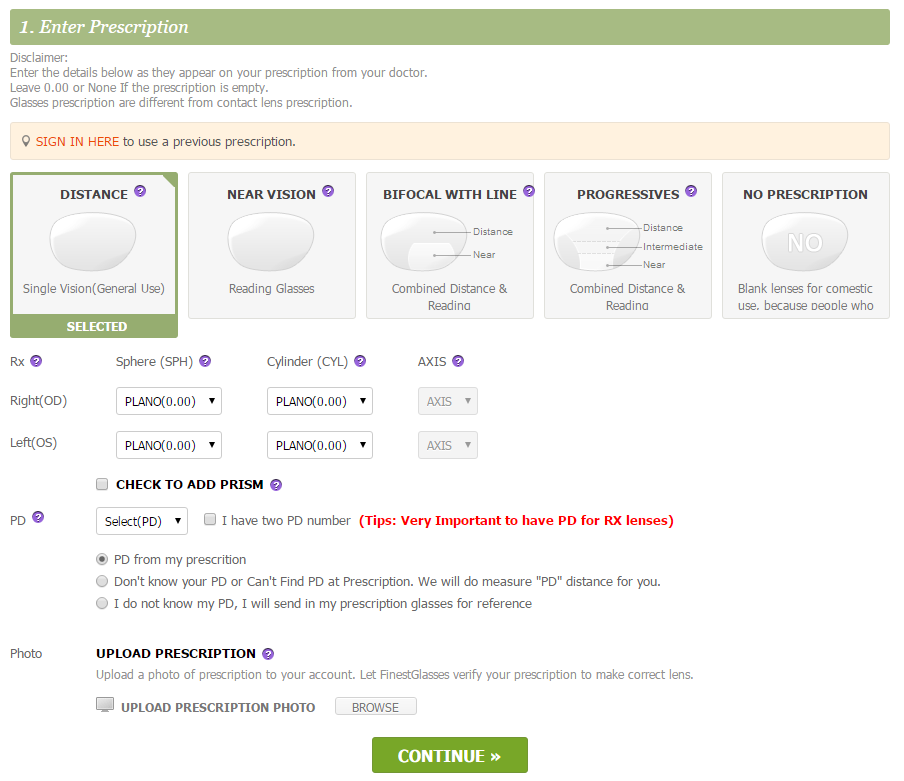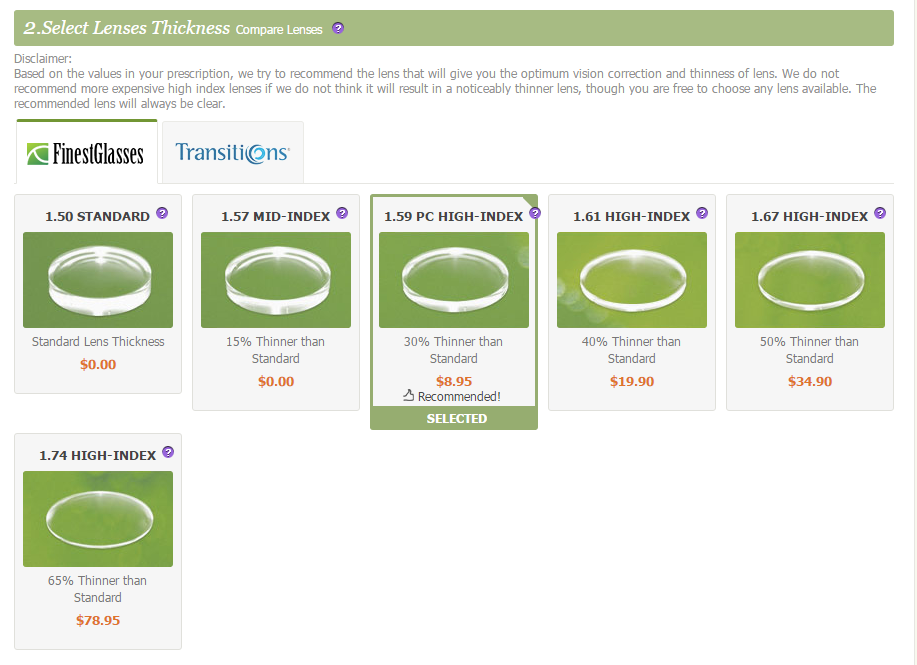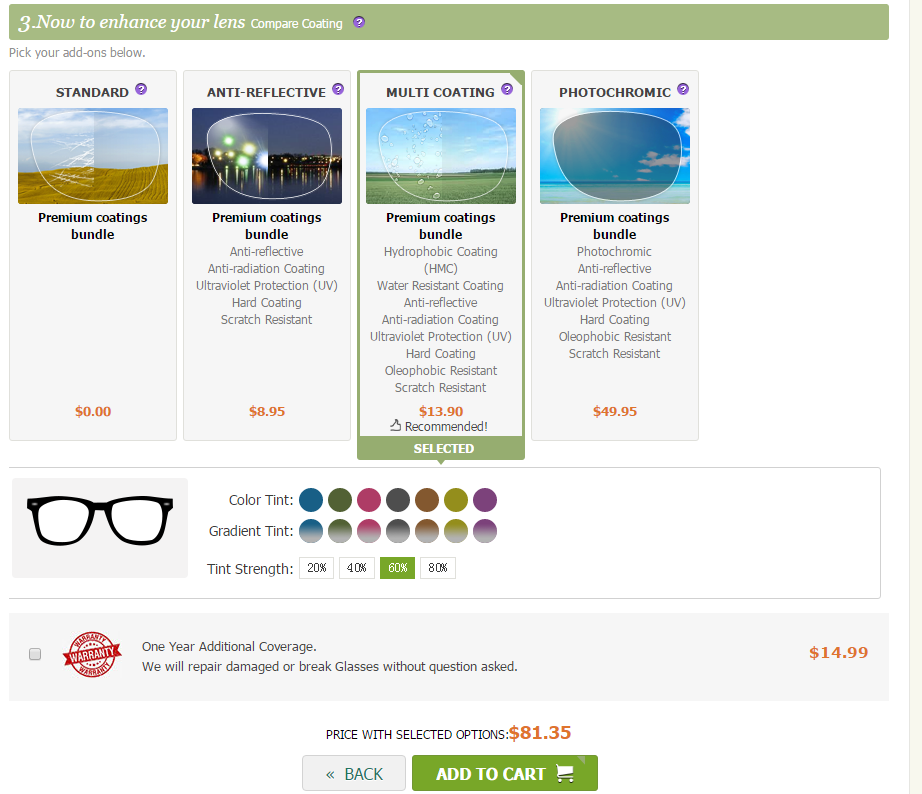 Add Product into Cart
1. When you are satisfied with your glasses, click on the "Add to Cart" button. You will be taken to your cart to verify or edit your choice. You can still continue shopping after adding a pair to your cart.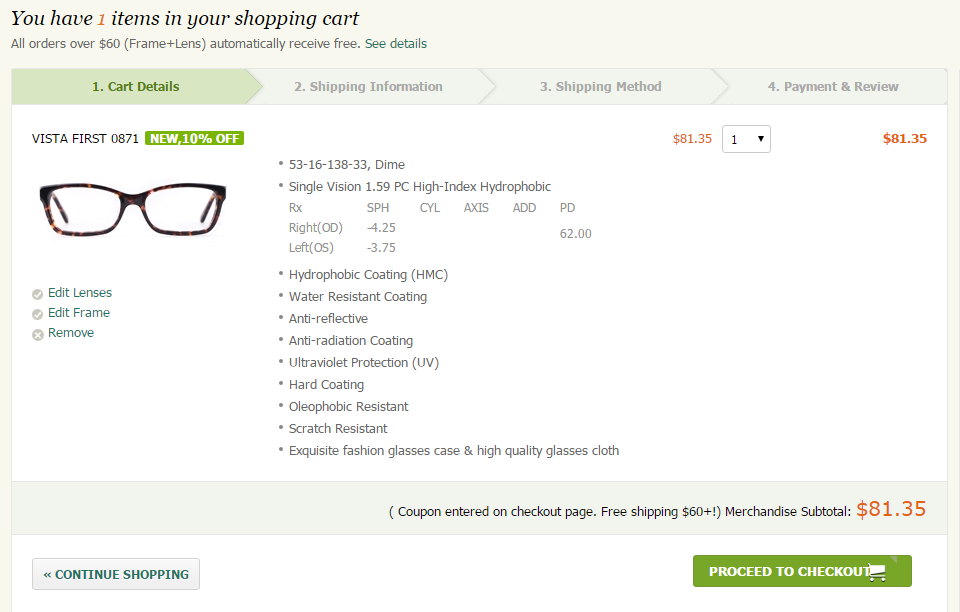 Fill in Your Shipping Details
1. Fill in the shipping and billing address. The default billing address will be same with the shipping address you added, and you need to edit address if two addresses are different.
2. Choose a shipping method. And please note that all orders over $60 will automatically receive a free standard shipping $5.95.
3. Apply your coupons with the coupon code that you get at the website.
4. Double check your shipping details before checkout.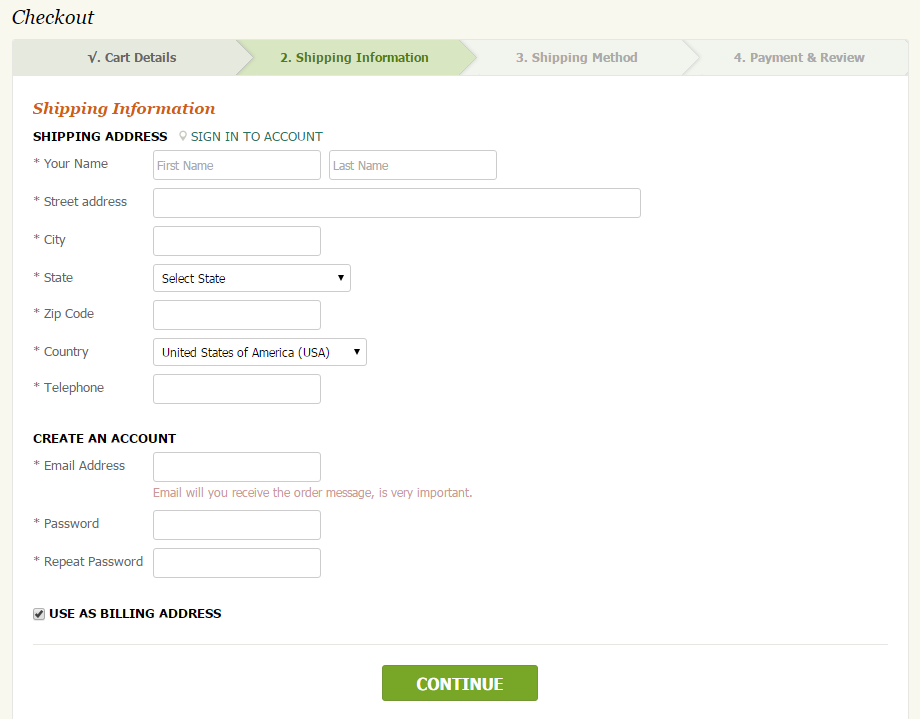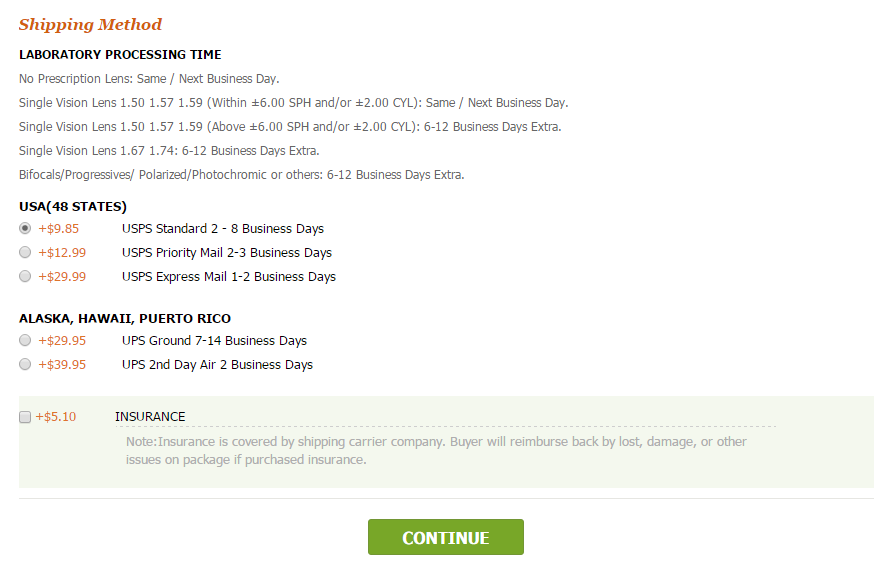 Complete Ordering
1. Click "Checkout" button to finish the payment and complete ordering. If you have any questions during the order process, please contact us at 626-5757190 or leave a message to us by clicking the FEEDBACK button at the bottom right.