Common sense of filling a prescription glasses online
The biggest advantages of online glasses are convenience, a large range of choice and affordable price.
As the rise of the mold is not long, it is necessary to learn some common sense of it:
1. What the diopter and your own dioptric value are? Generally speaking, diopter is the unit value used to measure the degree of myopia, which is also known as power. "+" is used to represent hyperopia and "-" is used to represent myopia.
2. How to read your own prescription? Usually, RX means prescription; SPHERE means the power of lens; CYL and AXIS describe astigmatism; The CYL means the severity of the astigmatism and the AXIS means which way the astigmatism should be oriented. ADD is used for bifocals. O.D. represents the right eye, and O.S. represents the left eye. PD means the pupillary distance. And prism is a feature that is added to a lens prescription to help the eyes work together and stay in proper alignment. And base means the degree of the prism.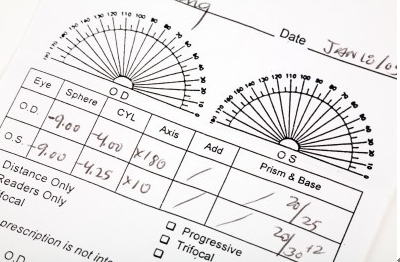 3. What do the certain signs on the temple mean? In fact, they are all about the size of the frame. For instance, "50口 21 – 145 -35" means the eye size is 50mm, the bridge is 21 mm, the temple is 145mm and the frame height is 35mm.
With the knowledge mentioned above, I am sure you could shop the prescription glasses that suit you best.
Buy Prescription Glasses Online