Its Never Too Early: Kids and Sunglasses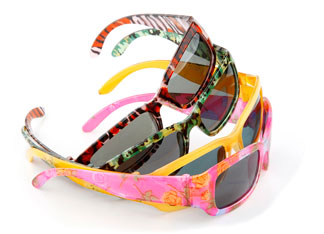 Most children spend more time outdoors than most adults. Sunglasses for kids are the first line of defense against the damage that the sun can do. We only have one set of eyes, and the sooner we begin protecting them, the longer we will have use of them. Kids may not be conscious of the need for sun protection, but there are new choices out there that can turn sunglasses from simple protection into fun fashion accessories that kids will want to wear.

The UV light from the sun can damage the retina and lenses of the eye, damage which is cumulative over time. In addition, the skin around the eyes is thin, and prone to damage from UV rays. Kids' eyes are still developing, and extra protection is needed to keep their eyes and skin as healthy as possible for the rest of their lives. Sunglasses can provide that protection.

While most adults know that sunglasses are necessary for protection, many kids don't. They are out in the sun from an early age, and it's up to the adults in their lives to provide an example they can follow. Many adult sunglass frames have been scaled down to child-size, providing children the opportunity to look like mom and dad, if they choose.
How to Choose Sunglasses for Kids?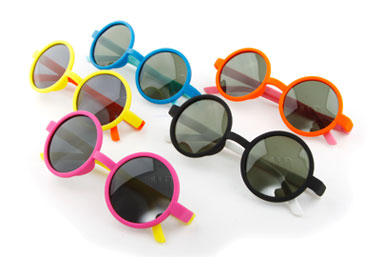 Kids can now choose from neon plastic frames, to color-coordinated frames. Metal frames are available for active play; their better durability means they will last longer. In addition, wrap-around sports frames also come in kids' sizes. These frames provide a further advantage in that they also give more protection to the whole eye. UV light doesn't just come from the front; it can get in the side around standard sunglasses.

Lenses are also available in many different materials. Plastic, glass and polycarbonate all have different advantages and disadvantages. Glass provides some UV protection just by itself, and further treatments in most sunglass manufacturing gives additional protection. Glass does break, however, and can be dangerous. Plastic lenses are more break-resistant than glass, but plastic requires treatment to block UV light. Plastic lenses are also scratch-prone, and easily damaged. Still they are a more affordable option. Polycarbonate lenses are break-and scratch-resistant, and thinner and lighter than either plastic or glass. The main disadvantage of polycarbonate lenses is cost. Plastic polycarbonate sunglasses will be the most expensive option for kid's eyewear.

No matter what type of frame style or lens material one chooses, lenses can be prescription if needed. This gives children with vision issues more options for eye protection. There are even lenses that will darken as needed when exposed to sunlight; this is a great option for children and their parents, as there will be one less pair of glasses to worry about. It is never too early to protect a child's eyes from the sun's damaging rays. Wearing sunglasses when kids are outside will give them a life-long habit that will keep their eyes in good shape as they grow into adulthood.
Find high quality kids sunglasses online