Marietta, GA (January 2013)

With the best of the old and the new, the latest additions to the Vera Bradley sunwear collection feature new styles and classic favorites! Adrian, Blair, Claudette, Meredith and Anna have all been updated for the new year, combining fashionable styling with the latest Vera Bradley colors. New styles appearing on the scene feature current fashion shapes in the latest Vera Bradley colors for a perfect fit. Designed to fit her style,these sunglasses are the perfect addition to any woman's wardrobe.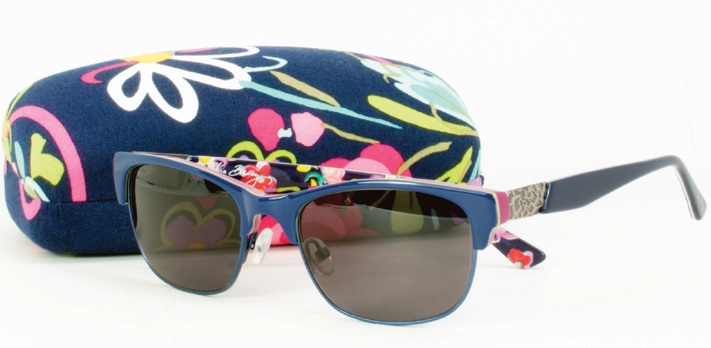 Vera Bradley – Janice in Ribbons


Adrian and Blair are classic aviators updated for the new year! Adrian is a comfortable classic with a traditional aviator shape that makes a sophisticated fashion statement. The newest colors, Jazzy Blooms and Plum Crazy, both feature a colorful front for an updated look. Blair provides a contemporary twist on a classic aviator shape and prominently displays the Vera Bradley Dogwood and English Rose colors on the exterior temples. Both frames feature spring hinges and adjustable nose pads for a sure fit.

Two favorite styles, Claudette and Meredith, return with the latest in Vera Bradley colors. Claudette brings a modern, trendy wayfarer shape, with a rounded eye shape and the Vera Bradley quilting effect on the exterior temples. Updated in Go Wild and Midnight Blues, Claudette features Polarized lenses. Meredith features Vera Bradley colors on the exterior temples and pattern-inspired design elements and accents, including bright pops of pink and purple horn. Meredith is polarized, and available in Jazzy Blooms and Plum Crazy.

For a classic round sunglass, Anna and Carol offer two unique options. Anna offers a medium butterfly eyeshape with a curved endpiece leading to Dogwood and Plum Crazy on the exterior temples. Carol is a new style, featuring block acetates with pockets of blue and purple mosaic crystals and Midnight Blues and Plum Crazy on the interior temples.

Classic eyeshapes are always in style. Elaine, June and Trina offer three classic looks for the woman of any age who loves Vera Bradley. Elaine is a retro inspired frame with a medium sized eyeshape and thicker eye rim. Ultra-thin acetate temples feature Dogwood and Plum Crazy on the interior, and enamel-filled two tone petals on the exterior temple. June features a cupped eye rim to create a cat eye effect, with polarized lenses. The metal endpiece connects ultra-thin acetate temples featuring English Rose and Go Wild on the interior. Trina features a metal front with an open endpiece design and acetate temples prominently featuring Go Wild and Plum Crazy for a sleek look.