William Rast, a company created and founded by musical artist Justin Timberlake, began as a denim only brand, but it quickly expanded into a stylish lifestyle collection that includes sportswear, leathers, and outerwear. William Rast now designs a line of eyewear that, like the rest of the William Rast collection, embraces iconic American fashions and filters them through the lens of a youthful, modern context.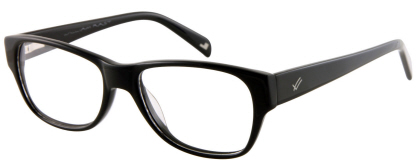 William Rast WR 1037 Eyeglasses

The William Rast eyewear collection, celebrates the rich history of Fashion Americana by creating frames that pull inspiration from timeless styles, like aviators and wayfarers, and making them relevant for a new generation. While William Rast stays true to art of American fashion, it also takes the time to add contemporary and unique accents to both its sunglass and optical collections.
The William Rast optical collection includes frames that are designed to fall in line with contemporary fashion movements. The thick rims and clunky shapes of many of the frames are on trend with the popular "geek chic" style, and the perfectly round, cat-eye, and other throwback frames blend seamlessly into the retro scene. The William Rast sunglasses collection can trace its roots back to the American preppy style. The sunglass collection is heavy with updated versions of the classic aviator design that each have their own sleek, rugged, or sporty twists. The collection also has streamlined and feminized aviator styles for women. William Rast also put its own spin on another timeless style; the William Rast wayfarer frames are given double brows, saddle bridges, and an eclectic array of prints and colors. William Rast sunglasses are designed to outfit both men and women, and every frame makes a unique statement about fashion and culture.
William Rast was the brainchild of Justin Timberlake, and the eyewear collections are quickly gaining popularity with other celebrities. Racing stars Danica Patrick and Austin Dyne, actress Jessica Biel, and musician Lenny Kravitz all wear William Rast. Now the William Rast styles that have graced center stages, red carpets, and NASCAR .
William Rast has its fingers on the pulse of modern style, and its reinvention of vintage fashion notions makes William Rast more than just an eyewear collection; it makes it a study in the history of American fashion and an example of what is can be.