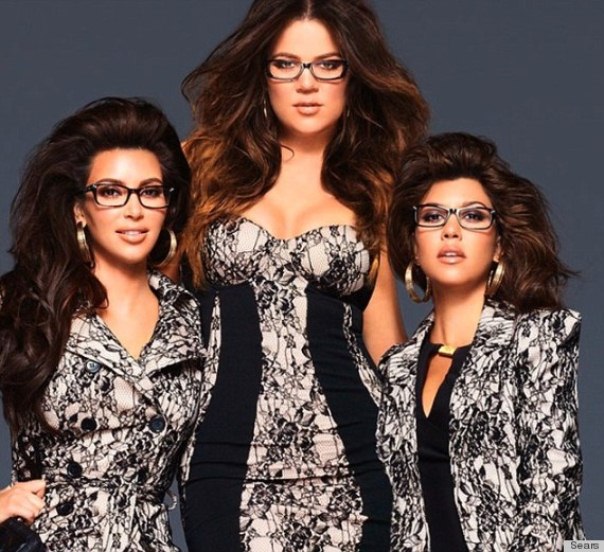 Kardashian sisters are exploring their fashion world from dresses, shoes, jewelry, perfume,swimwear to beach towels to eyewear. The three sisters Khloé, Kourtney and Kim Kardashians will be launched the eyewear collection to complete their products at Sears and they are standing perfectly for the ad campaign of them. Kardashian Kollection Eyewear is a collaboration between Jupi Corp and Inspecs USA.


"Love this pic of me and my sisters in our new lace line for our Kardashian Kollection for Sears and our glasses for Sears Optical!" Kim posted in celebration. "I hope you guys like the new pieces. Lace is so feminine and pretty and it's always in style! Xo"
In the ad campaign, they wear Kardashian new product line for Sears from top to toe. They are dresses in '80s style with lace dresses and huge puffy hair with big giant gold earrings.
"Hey dolls. What do you think of this new pic of me and my sisters rocking Kardashian Kollection eyewear and some of our new lace items? I love it! I'm so excited about the launch of our new eyewear line — be sure to check out all the styles in Sears Optical stores," Khloe wrote on her blog.
"The Kardashian Kollection Eyewear will be launched the ophthalmic and prescription sunglasses in five styles with nine colours. They are inspired by the sisters' individual styles. Frame details include studded temples, tortoise shell, and leopard prints in retro shaped acetate frames.