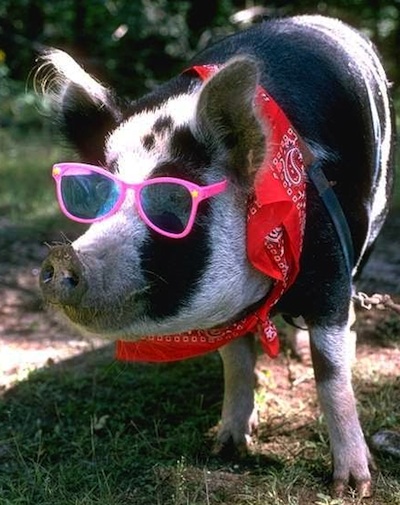 We are a little early here but March 1 is National Pig Day and we thought today we would investigate Pig Eye or Pig Vision. Apparently Pigs are notorious for having poor vision but their sense of smell and hearing are highly evolved. Pigs have been used for medical research since 250-300 years B.C. Erasistratos used pigs to study human breathing. Galen (130-200 A.D.Roman) used pigs to study blood circulation.
Today the use of pigs still is important in medical research because of their anatomical similarities to humans. Skin, skeleton, teeth, gastrointestinal, pancreas, liver, kid ney, lung, cardio, pharmacology and diabetes research are only a part of what medical research a pig is used for.

To get to The expression In A Pigs Eye- what does it mean? Disbelief, a lie.. like NEVER.

1658- The first known 'pigs eyes' was referenced by British poet Richard Flecknoe in
Enigmaticall Characters
: '
She have the spirit in her of twenty school-mistresses, looking with her Pigs-eyes so narrowly to her charge.
'

1846-1848; Volunteer in Pennsylvania's First Regiment, Jacob Oswandel's
Notes on the Mexican War
, seemed to like the expression and used it five times in his account of the war, for example: 'The
Publicanos de Mexicanos
were all anxious to see the new arrivals, they having been informed that our regiment was a whole division of about eight thousand men (in a pig's eye).'

1847 J. J. Oswandel Notes Mexican War (1885) iii. 163 Mr. Nicholas P. Trist‥is on his way to negotiate with the Mexican government to make peace. How are you peace—peace in a pig's eye.

1872 : Petroleum V. Nasby (David Locke) in one of his satirical newspaper columns: 'A poetical cotashun.which.wuz, — '*** wun, kim all, this rock shel fly From its firm base – in a pig's eye.'" From "The Dictionary of Cliches" by James Rogers (Ballantine Books, New York, 1985).

1876 Oakland (Calif.) Daily Evening Tribune 17 Mar. 3/7 'Bought this mare for $16‥'. 'In a pig's eye you've bought her for $16'.

1951 E. Lambert Twenty Thousand Thieves 322 'Pig's arse to that!' another voice cried. 'A jack-up—that's the shot.'

1968 W. Garner Deep, Deep Freeze ix. 110 'One stops short of probing the private lives of people for whom one has a regard.' 'In a pig's ear!' she said vulgarly. 'If duty called you'd have a man under the bed on my honeymoon.'

1992 O. S. Card Lost Boys (1993) vi. 154 'She must not have any idea of the effect of her words then'‥. 'In a pig's eye.'