February 2013 – Cumming, GA. – Briot USA, the leader in lens edging technology introduces the new Alta Pulse, the heart of your workshop. The Pulse is the culmination of six years of continuous development and improvement based on market demands.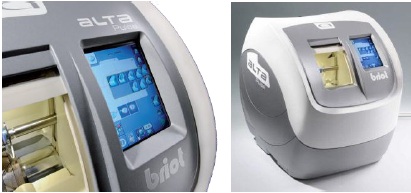 The Alta Pulse focuses on three aspects; Flexibility, Reliability, and Stability. This multi-functional edger allows for the best finishing, drilling, grooving, and safety beveling. The Pulse boasts a special bevel just for curved lenses to fit wrap frames, variable tilt from 0 to 30 degrees, inclined grooving, safety beveling, and a mini-bevel.

With its' proven technology, the Alta Edger took the prestigious Ponts d'Or Award for edger of the year at Silmo. The Pulse combines new features and configurations with the simplicity that has made the Alta line such a success. Along with showcasing high reliability, the Alta Pulse also offers incredible accuracy and the capability to edge all types of materials.

Eric Bigot, Technical Department Manager says of the Alta Pulse "we have achieved a robustness that makes it easy for you to program highly innovative and technical tasks with a simple-to- use human interface."