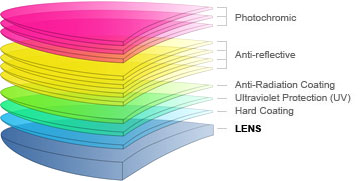 Photochromic lenses are lenses that darken on exposure to specific types of light, most commonly ultraviolet (UV) radiation. Once the light source is removed (for example by walking indoors), the lenses will gradually return to their clear state.

Anti-Reflective (AR) coating improves the transmittance of light, reduces reflection from lenses, and eliminates stray lights. It is highly recommended for a clear night time vision.

High-vacuum electron beam evaporation, to effectively prevent the radiation of electromagnetic radiation and electrostatic damage to the glasses.

UV coating blocks up to 99% of rays up to 400nm protecting the eyes from radiation while not interfering with visible light.

A layer of coating that prevents scratches from occurring on the surfaces of lenses from daily use.

Hard coating forms a permanent bond with the surface of the lens that prevents heavy scratches from occurring on the surface of the lens.